BW Flexible Systems Horizontal Packaging Systems (HFFS)
Flow Wrappers convey products horizontally through the packaging machinery. BW Flexible Systems flow wrappers space each product as it travels, a bag is formed around the product, the bag is sealed, and the wrapped product flows out of the machine.
The BW Flexible Systems Horizontal Flow Wrapping (HFFS) product line is the preferred choice from small start-ups to large companies with high-speed requirements. Our horizontal flow wrappers produce the best seals, wrapping, and packaging for a wide variety of applications, including difficult-to-handle products.
Discover how BW Flexible Systems can help find a custom flow wrapping solution for your product line.
Horizontal Flow Wrapper Applications
Our Flow Wrapping machines seamlessly handle a multitude of sizes and materials. This gives you the flexibility to easily package a wide variety of products using the same line. This increases the profitability of your company and allows you to take on more challenging packaging requirements without sacrificing efficiency.
Horizontal Flow Wrapping Machines from BW Flexible Systems are used to safely and securely package materials in various industries including:
Frozen Products
Produce
Snacks
Bakery Goods
Cheese and Dairy
Pet Food
No matter what you need to package, we can customize a horizontal flow wrapper to meet your needs.
BW Flexible Systems offers a lifelong support on all Horizontal Flow Wrappers. Unlike most horizontal flow wrapping machine manufacturers, we will service our products for as long as you own the equipment. Our service is complete through design, installation, and commissioning, and never expires with lifetime support.
Explore our horizontal flow wrapper options below and find out how Horizontal Flow Wrapping machines can increase efficiency and profits for your manufacturing line today.
BW Flexible Systems Horizontal Flow Wrapping Machines
BW Flexible Systems is the preferred Horizontal Flow Wrapping machine manufacturer for those looking for efficiency and industrial construction for their product line. Learn more about our HFFS machines below to find the right one for your application.
Rose Forgrove Merlin Blu
The Rose Forgrove Merlin Blu's open, ergonomic design evolves from many years of industry expertise coupled with insightful customer collaboration. Through a wide range of easy-to-clean features, quick product changeovers, durable construction and waste minimization technology, Rose Forgrove's emphasis on improving your Overall Equipment Efficiency means delivering profitable results to your operation. The Rose Forgrove Merlin sets a new standard in hygienic flow wrapping technology and delivers tremendous value to our customers.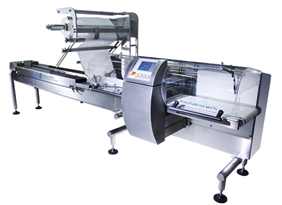 Rose Forgrove Minerva
The Rose Forgrove Minerva is a horizontal flow wrapper packaging machine suitable for wrapping a large variety of food and non-food products with high speed capabilities and pre-arrangement for complete automation.
The Rose Forgrove Minerva distinguishes itself through innovating engineering that focuses on delivering exceptional performance in challenging environments. It is a PLC controlled horizontal rotary form fill seal machine with five (5) independent motors and rotary sealing jaws.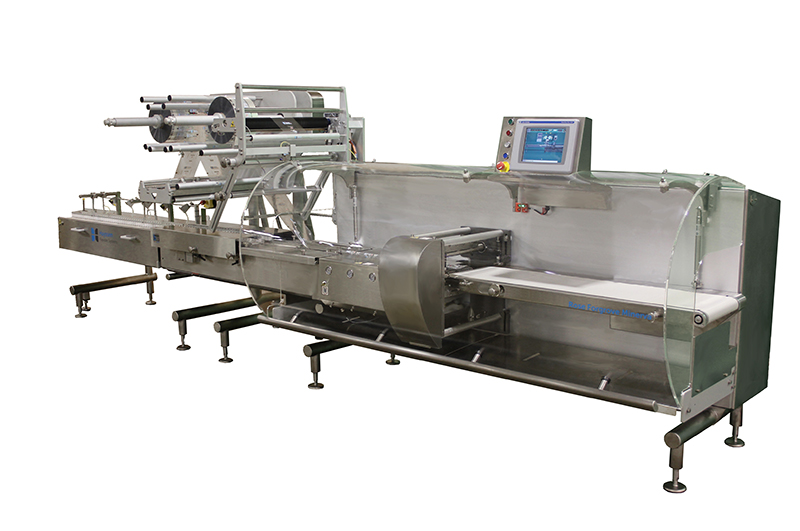 Schib CO50
A new generation horizontal flow wrapper suitable for a wide range of primary or secondary packaging applications. It offers compact construction, ergonomic and easy-to-clean design, as well as great flexibility and reliability.
The machine comes with top or bottom unwind, speeds up to 200 ppm, 3-axis drive configuration and the choice of Rotary, D-Cam or long-dwell jaws. Allen-Bradley controls are an available option.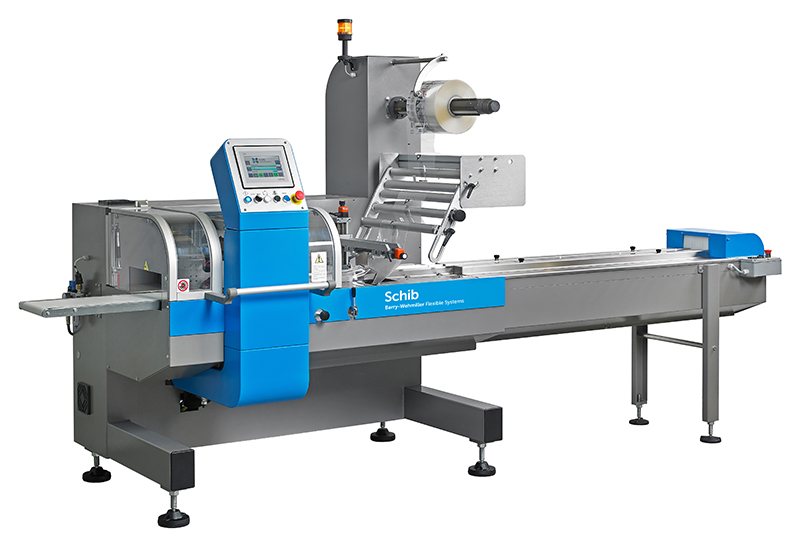 Schib CO90
The state-of-the-art Schib CO90 is a horizontal flow wrapper suitable for a wide range of packaging applications. It offers solid construction and easy-to-clean design, as well as exceptional performances.
The CO90 can be configured as a stand-alone machine or arranged for integration into completely automated packaging systems.
Automatic feeders and product conveying/handling devices are available on demand.